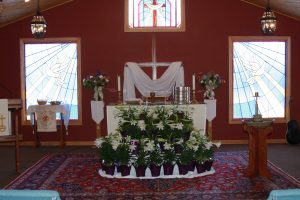 A friendly smile will greet you as you come through the door and you will find yourself in the back of our worship space. You will find people gathered about visiting with each other. You likely won't be the only new person joining in worship as we often have visitors from near and far. We are an informal, welcoming community that is blessed to be located in a beautiful mountain valley.
We have a blended service that includes some traditional elements like the Lord's Prayer and Holy Communion each week but with a more contemporary musical sound. led by a trio of musicians playing piano, guitar, and bass. We worship as one family composed of everyone present on that particular occasion. As a family gathered, all are invited and welcome to Christ's table of grace. We welcome you to come join us!
We trust that Jesus Christ comes to us in the bread and cup of Holy Communion sharing a taste of forgiveness and new life.