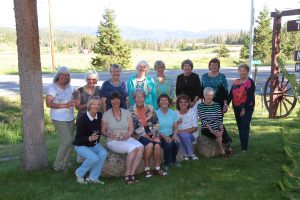 Women's Ministry enjoy their ongoing spiritual study on the first and third Tuesday of each month from 11am-1:30pm. They cover a variety of topics and materials including Bible study. This group has grown in both numbers and connection to one another as their fellowship has deepened over the years. The Women's Ministry is open to any women who would enjoy the opportunity to grow in their faith while providing support for one another as well as our congregation, the communities we live in and our world.
Prayer Shawls is a ministry that grew out of the group's ministry. These knitted shawls are hand crafted by members of the congregation and shared with people who are experiencing challenges in health and life.
Annually, our women coordinate a Bake Sale held in Grand Lake each summer. Proceeds from this sale are shared to support our children and youth ministries.
Presently, the Women's Ministry is studying Romans 1-7.  We welcome anyone interested in joining us to contact Pat Edwards at 970/406-8108.