Above are some photos from Pastor Brian's Sabbatical. While he is on Sabbatical he will post updates including thoughts and photos from his time away. Check back from time to time and see what is new. Click on the photo to see an enlarged version.
June 21, 2018
During my first month I spent some time in retreat at Sky Ranch Lutheran Camp. Moki went with me. I read, walked, did some meditation, prayer and writing. I also volunteered in the Kitchen and dish room. The deck on my cabin was very conducive to reading and reflecting. The views were beautiful.
Once school was out for the summer, Karen and I began our travel adventure. We visited family in Nebraska. I slipped into Zion Lutheran and took a photo of the stained-glass window of Jesus teaching.
We stopped in Dubuque, Iowa on our way to my hometown of Black Earth, Wisconsin. While in Dubuque we rode the Fenelon Place Elevator which is just around the corner from the apartment where Karen lived during my senior year. We also picnicked at Wartburg Seminary. The other stain-glass window is from the chapel.
We visited Roxy and Jim DeVoe, and Eric DeVoe,  my sister, brother-in-law and nephew who live in Black Earth, Wisconsin. Roxy's garden is filled with photographic invitation.
Next was St. Paul, Minnesota, where we enjoyed a weekend with Karen's brother and sister-in-law. Several walks and museums were enjoyed, including an evening sunset.
A couple more days on the road brought us to Helena, Montana and the home of our daughter and son-in-law, Emily and Grayson. They live walking distance from the Cathedral of St. Helena.
Next week we travel to Holden Village, in north central Washington.
We have traveled over 2500 miles with many more to come on this sabbatical adventure. We are blessed and grateful for this time away together.
Pastor Brian
Friday, July 6, 2018
We traveled to Holden Village, a Lutheran Retreat Community in the Cascade Mountains of north central Washington. Getting to Holden is an adventure in itself which includes a 2 hour boat trip up Lake Chelan and then a 45 minute bus ride up the mountain (12 miles).  This village is an old mining town which produced copper from the late 1930's to late 1950's. It was donated to become a Lutheran community in 1961. It is a place of worship, renewal, and education. I first heard about Holden when I was in college, so this trip is a long time in coming.
Karen and I spent time hiking, investigating some arts and crafts, meeting people from many places, including a theologian who grew up in Kremmling! We had plenty of time to read as well.
I have included a few images from Holden. As you can see, there was a serious wild land fire a few years ago. Thanks to a mining remediation plan that had just been completed in the years prior to the fire, Holden had installed some measures which helped save the village, including metal roofing and a sprinkler system. These rainbird sprinklers are not your residential variety, but resemble snow making guns!
You can see that some of the wildlife has become comfortable in the Village. One deer was considering taking a Sauna! While another was sharing a hiking trail with a Forest Service employee (and us).
Holden Village is indeed a special place with a fascinating history. I look forward to sharing some stories and more images after our sabbatical time concludes. Today, however, we are heading to Sitka, Alaska. What a blessing this time has been and still more to come! Thank you, Thank you!
Pastor Brian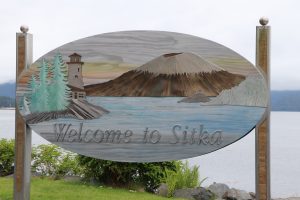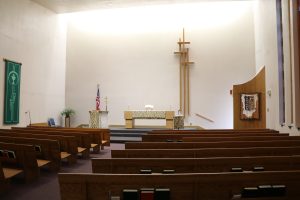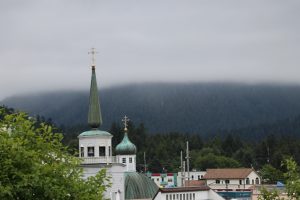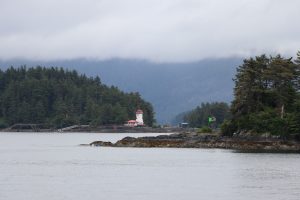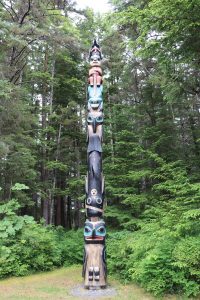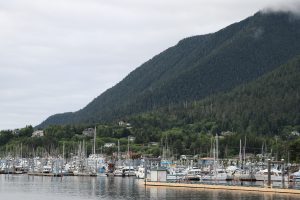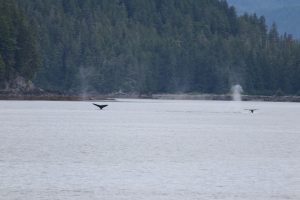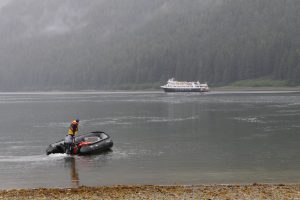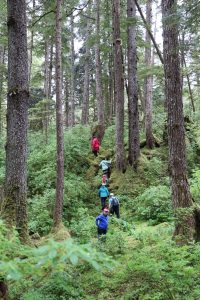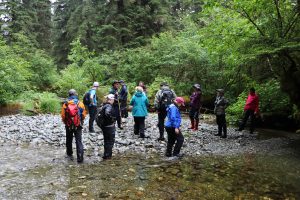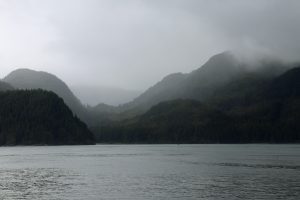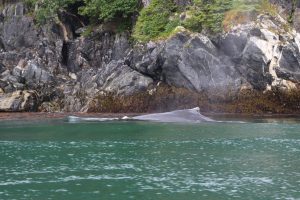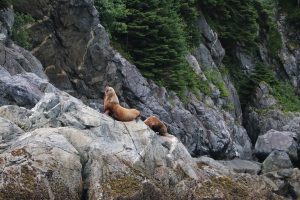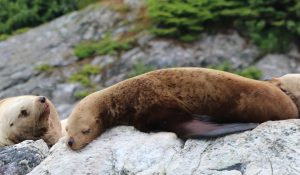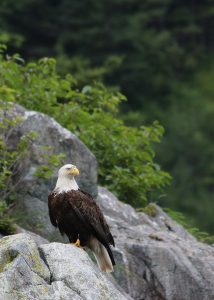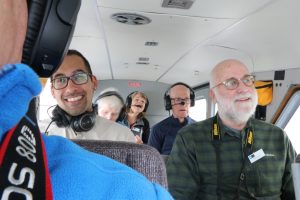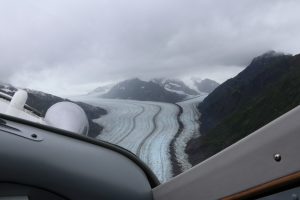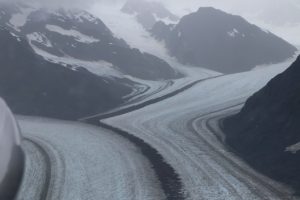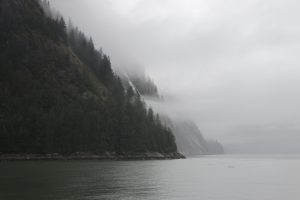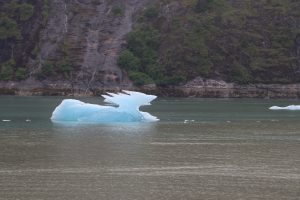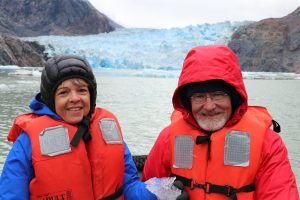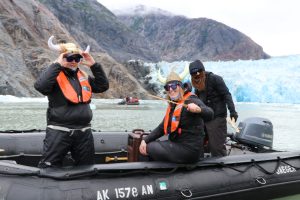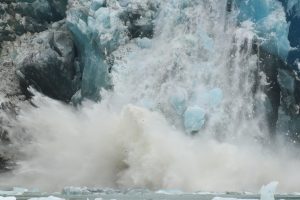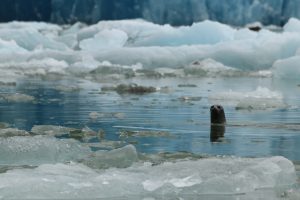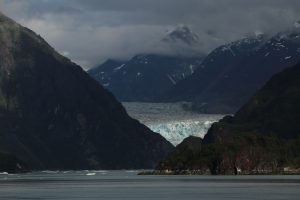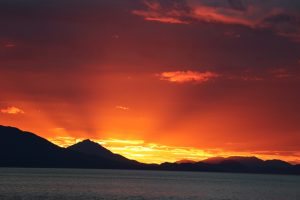 Monday, July 23, 2018
We thoroughly enjoyed our travel to southeast Alaska! We flew into Sitka a couple days before the small ship expedition with Lindblad-National Geographic.  While in Sitka we stopped into Sitka Lutheran Church. We received a warm welcome from one of their volunteers. She gave a brief tour and history. A fire in the early 1960's destroyed the Lutheran Church along with the Russian Orthodox Cathedral across the street (we toured the Russian Orthodox Church as part of the cruise). Both have been rebuilt. Sitka has a significant history for the Tlingit people of Alaska as well as the Russian and then USA presence.
We toured a raptor recovery center at Sitka as well as the Alaska Historical Park which hosts a collection of Totem Poles.  We learned there are only 14 miles of roads in Sitka which is situated on Baranov Island and is therefore only accessible by water or air. It does not have a deep water port so the large cruise ships do not visit Sitka.
We boarded the National Geographic Seabird on a Sunday evening and after some introductions and safety instructions we toasted the journey and headed north out of the harbor. The sun finally threatened to show itself, a little. We had not seen the mountain tops in the two days we walked around the town.
Our time on the Seabird was amazing! We saw Humpback Whales, Stellar Sea Lions, Harbor Seals, Sea Otters, Brown Bears, Salmon, Bald Eagles, Gulls, and numerous other birds. We would access shore with inflatable Dibs (zodiacs). From there we would hike or kayak or both. We also took tours in the Dibs around islands. It was on one such outing that a Humpback surfaced only 15 or 20 yards away. I found it a little challenging to try to frame my photos with the Dib rising and falling in the swells.
Midway through the expedition we visited the town of Haines, Alaska. Here Karen and I enjoyed a Flightseeing tour of Glacier Bay National Park. What a wonder-filled experience to see glaciers from the air. Then in the afternoon we visited a Tlingit village and floated a while down the Chilcat River through a Bald Eagle Preserve.
The next morning we were in Tracy Arm-Fords Terror Wilderness and slowly traveled up Tracy Arm Fjord to the South Sawyer Glacier. We boarded the Dibs once again to get a closer look at the glacier, and small icebergs. We bundled up for this excursion and enjoyed the Viking team that delivered hot chocolate midway through our time among the ice. The colors and shapes of the "bergybits" felt as though we were in an ice sculpture park. The face of the glacier is massive. We kept our distance at about a half a mile. The sound of the ice calving off the glacier was also impressive. After lunch we took another turn in the double kayak, this time boarding from ship. What a sensation to paddle up to a fjord wall that rises 2000 feet above you. We felt pretty small.
This was our final full day on the Seabird and the sun shown through the otherwise constant cloud cover. It was very dramatic and the sunset that evening was beautiful. How wonderful to have one last visit by a humpback whale while everyone was out on deck enjoying our nicest evening (nicest weather) of the week. But of course the weather is cloudy and wet, southeast Alaska is in a temperate rainforest and Juneau receives 110 inches per year with an average of 200 days of rain.
Karen and I stayed an extra evening in Juneau (where we disembarked) before flying back to Seattle. One of the naturalists on the ship grew up in Juneau and she recommended visiting the Twisted Fish restaurant. It was a great recommendation!
I look forward to sharing more of this journey in person after this sabbatical concludes in a couple of weeks. I am planning several opportunities to share photos and stories in the months to come.
God has blessed us greatly in this time of travel. I trust you too have experienced the depth of God's grace!
Peace,
Pastor Brian Bergum